FREEMAN Vineyards has been a regular stallholder at Carriageworks Farmers Market since its inception in February 2007. It's been our Sydney Cellar Door for 15 years and we have made countless friends, even selling bottles for breakfast! But the time has come…after a rather challenging vintage…to pull down the banner on Saturday mornings. We will miss the chats, meeting new babies (and seeing them grow), admiring new pups, swapping restaurant recommendations, recipes and debating hot community topics. We will miss the Carriageworks family a lot.
So we look forward to seeing you at the Cellar Door soon. Open by appointment 7 days. Email: sales@freemanvineyards.com.au
The FREEMAN portfolio is available from several independent Sydney wine stores.
OR GO TO OUR Online shop
All wines sent FREIGHT FREE within Australia.
ORDER Enquiries: 0417 733715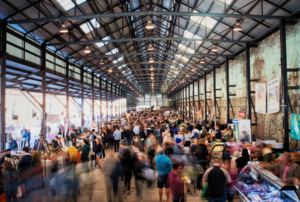 CARRIAGEWORKS FARMERS MARKET