NOTE: Carriageworks Farmers Market is currently still trading as normal, albeit with new provisions to reflect the current public health directives. At this stage we are planning to return on 11 April but that will be dependent on the rapidly changing situation. Meanwhile, please all stay safe and well and if you need to stock up on FREEMAN wines click here .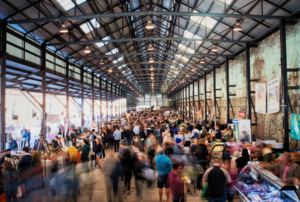 FREEMAN SYDNEY CELLAR DOOR
Find FREEMAN wines every 2nd and 4th Saturday
(except during vintage when it's all hands on deck)
Please note we are taking a vintage break from now until 11 April.
CARRIAGEWORKS FARMERS MARKET
8am – 1pm
243 Wilson Street, Redfern
NEXT Sydney Cellar Door: 11 April 2020 – 8am – 1pm
If your stocks are running low and you wish for a Six-Pack or more please email: sales@freemanvineyards.com.au so we can pack ready for your collection on market morning.
Or order wines from our online shop: http://www.freemanvineyards.com.au/wines/
Call us on 0429 310 309 and we will be happy to bring up any special orders to be collected on market morning.
NOTE: We take a vintage break and will be back at the market in April 2020.