24 Sep

SEDUCTIVE SANGIOVESE SCORES TROPHY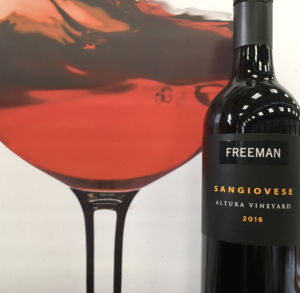 The NSW Hilltops reputation as Australia's 'Little Italy' took another step forward at the 2017 Hilltops Wine Show, with the announcement that the relative newcomer FREEMAN Sangiovese 2016 won the Best Italian Varietals Trophy, and a Gold Medal.
FREEMAN Sangiovese had what might best be described as an accidental start. One clone planted in the estate Altura Vineyard never matched the surrounding Nebbiolo vines, a viticultural anomaly that was ultimately determined by DNA testing. The rogue vines were in fact Sangiovese. Since then more Sangiovese has been propagated, significantly adding another Italian origin varietal wine to the FREEMAN range.
'There is no doubt the Hilltops terroir is ideally suited to Italian origin grape varieties. With every vintage we are seeing even greater quality as the vines mature, which gives me terrific confidence for the future,' commented winemaker Brian Freeman.
'This award highlights my optimism and belief that the NSW Hilltops will one day produce red wines that rival the Italian wines of Tuscany and Valpolicella.'
FREEMAN Dolcino 2013 won the Trophy for Best White Wine at the same show.