You don't have to be Warren Buffet to know that Forbes magazine is pitched at a mostly  US-based business clientele. And hopefully some are lovers of alternative red wines.
Curious US-based wine writer Cathrine Todd has investigated what she sees as the next cult trend in global wines – dried-grape  wines. Her research soon found the FREEMAN dried grape portfolio – FREEMAN Secco Rondinella Corvina and FREEMAN Robusta (100% Corvina) – from faraway Hilltops, NSW.
Read all about FREEMAN Vineyards US debut here:
https://www.forbes.com/sites/cathrinetodd/2019/05/24/wines-next-cult-trend/#668615a7353d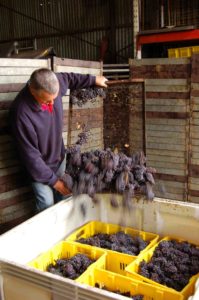 Brian Freeman emptying Corvina grapes after drying.